Resuscitating My Podcast
It's the slower months when projects that have been mentally circling the airport can actually contact the tower and request permission to land. In 2014 I got a little better at this, by anticipating the space I'd have in my calendar and brain, and planning to produce my DVD releases then.
A couple months ago, someone posted something on Facebook, mentioning my podcast. Perhaps they'd actually found it and posted a link to it. (I can't remember now, and you can't search Facebook like it's Google, so you'll have to take my word for it.)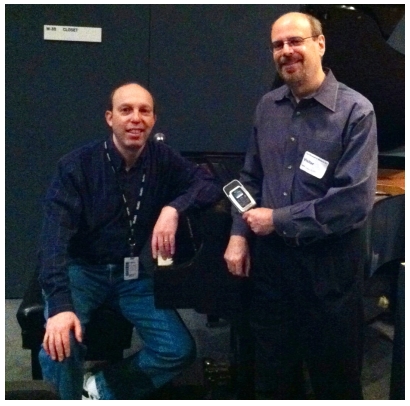 Oh, yeah, my podcast. The premiere episode posted in June of 2012, and I had grey matter in May that year to figure out how to do a podcast and get it listed on iTunes. I also had the confluence of being a guest on a Daniel Person's "Mighty Movie Podcast", and Daniel had some advice and tips on navigating the coding etc to get this going.
(Click on the photo to listen to the episode of Daniel's MMP that I was on.)
Doing a podcast was one of those things I'd thought about doing, to add to the various other facets of my online presence and as a way to connect with people who find what I do of interest, and I just needed the time to figure out the nuts and bolts of how to get episodes listed on iTunes.
Finding the wormhole between content and audience has been an interest of mine.
Once I figured out how that worked, and got through the learning curve of recording and posting the first episode, doing the podcast wasn't too
too
difficult.
Remembering to do episodes of it was the hard part.
Episodes 1, 2 and 3 went out in June and July of 2012, ep. 4 in Jan 2013, and ep. 5 two months after that. And then I got busy, and the thought of doing all the steps on top of carving out the time to do them was too much. Far as I could tell, hardly anyone was listening anyway, as the online stats showed I had 15-20 subscribers when I checked.
Or so I thought.
When that Facebook post appeared this past October, I commented something about it being defunct and that I just couldn't get it together to do more episodes…to which Kendra Leonard responded that she'd be happy to help.
Kendra is a musicologist who launched the
Silent Film Sound and Music Archive
, an online resource to find silent era mood music, cue sheets and vintage "instruction" books on film accompaniment. I'd sent her PDFs I'd made of a few of the "PianOrgan" folios of mood cues someone had given me at a show last year, as well as a score for "The Sea Beast" that I had scanned for someone else at some point.
And so, my Silent Film Music podcast will reboot at some point in the beginning of next year, barring any tech snafus. In getting myself back into gear, I looked up the current stats on the 5 episodes I'd posted, and was surprised to see that episodes 1, 2, and 3 had been downloaded more than 400 times, with ep 4 at 215 and ep 5 around 280, with a current subscriber tally of 64. And that's with me doing
nothing
on the podcast for 18 months.
Perhaps there's something to this, after all.
Ben
PS - you can listen or subscribe to
the podcast here
.